The vineyard earns high praise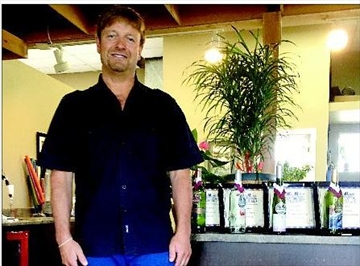 The vineyard earns high praise– Image 1
Award-winning winemaker Eric Beere, shows offaward winning wine at his business' new location at 15 Broadview Ave., in Smiths Falls.
Smiths Falls Record NewsThere's no doubt most of us enjoy a glass of wine every once in a while, but imagine how much more enjoyable it would be if you knew it hadn't cost an arm and a leg and was also an award winner. That's what you'll get at The Vineyard, where customers can have their own wines made affordably in Smiths Falls.
"This year we won a silver for our Dragon Fruit Raspberry White Shiraz and bronze for our Chocolate Hazelnut Port at the International Winemaking Competition in Santa Barbara," said Eric Beere, owner/operator.
This year's winners are now on special and while customers can't taste them before the batch is ready, the same satisfaction guarantee with a full replacement or refund applies here as it does on all The Vineyard's offerings.
Last year The Vineyard won gold for its Italian Amarone and a silver for its Reisling Ice Wine. Considering the company competes against 4,500 entries
from nine countries that's really not bad at all. "I've been sending wines into the competition for three years," said Beere.
The beauty of these competitions is the feedback the judges give, informing the winemaker what was good about the wine and what needs improvement in terms of appearance, aroma, taste, after taste and overall impression.
"The first year I sent in a wine that was one year old, and they said it was acceptable," explained Beere.
In the second year he sent the same wine again but aged another year, and this time won gold. "So I learned that that particular wine needed to age for two years," said Beere.
The entire enterprise has been a huge learning experience for Beere, one that he finds fascinating enough to want to perfect, and share with his customers in a no pressure, friendly atmosphere.
"It's amazing what you don't know, you don't know," said Beere, who is working towards his sommelier designation.